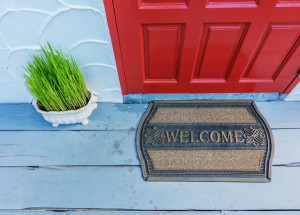 Are you getting your rental space ready for a new tenant? You probably already know you need to make sure that it's thoroughly cleaned and that any maintenance issues are fixed prior to move-in. But beyond that, there are some other ways you can help the transaction go smoother and make a great first impression.
We all know that first impressions tend to stick. By doing a few extra things in the beginning you can help to build a strong tenant-landlord relationship.
One of the things you should consider doing before the tenant is fully moved in is to go over the lease with them. Sure, they may sign it, but they may not read it thoroughly. You want to make sure they know the terms and conditions of it. For example, what are they responsible for and what are you responsible for? You can go over these intricacies with them to ensure they have a good understanding of the lease. Make sure to allow them time to ask any questions if they have them, about the lease or even the surrounding area.
Starting off with clear communication is a great way to lay some groundwork. Another thing you want to consider is how you can make the tenant feel welcome.
They'll likely be exhausted and stressed from the move. So, make it a little easier for them by putting together a welcome basket or packet of information.
In their packet, you can include a list with addresses for local hot spots, restaurants, and grocery stores. You can even include a map if you want to take an extra step. Their packet should also include all of the things they would want to know like when they should put their trash out, who they are to call if there's a problem, and wifi information (if the building has free access). In addition, make sure to include a personal letter welcoming them to the building.
If you'd like to include a basket as well, consider putting together the necessities to get them started, including toilet paper, napkins, paper towels, hand soap, and cleaning supplies. Or, you could put these items around the rental in their correct locations. Another idea for a welcome basket is one with snacks in it. You could consider adding water, soda, tea,j coffee, popcorn, chips or other goodies (but avoid common allergens like peanuts). A gift card is always a nice touch as well. You may even want to include some coupons for local places that they could utilize.
These are just a few ways you can help your tenant's move-in go a little smoother and establish a good relationship from the start.
If you're looking for additional ways to keep your tenants satisfied, reach out to us at PMI: . We're happy to help.